Useful Gifts For Mom Birthday
We love our moms, so it's only fair that we give them the best birthday gifts. But what's better than an awesome gift? A gift that is also useful. Yes that's what moms really want, forget flowers and chocolate that want gifts that are practical people!  So no worries, we are here to help with all of your gift-giving struggles! Here are useful gifts for a moms Birthday!
Peeling Apples Just Got Easier With This 3 In 1 Apple And Fruit Peeler
- Ships From USA
PEELS, CORES & SLICES: Have you ever been wanting to make an apple based pudding, but the thought of having to peel, core and slice every single apple just puts you off? Well that worry is about to be put behind you as this Precision Kitchenware product does all 3 in 1, with no hassle at all! It will swiftly peel, core and slice your apples perfectly and evenly!

EASY: Do the chore of peeling apples with pure ease! Once the apple is firmly in place on the prong, all you need to do is turn the handle and your apple will be peeled, cored and sliced within a matter of seconds!
High Quality Fruit Apple Peeler Corer Slicer Cutter Parer Knife Kitchen Tool
100% Brand new apple peeler.
3 in 1 function : Peels, cores and slices apples in seconds and all at the same time
Stainless steel blades, suitable for peeling potatoes, pears and apples
Easy to use, works by manually turning the handle
All blades are adjustable and within seconds you can either just core and slice the apple
(leaving the peel on), or remove the corer and slicer blade to give just a wonderfully peeled apple
The strong levered suction cup on the bottom to prevent it from moving during usage
Easy to clean and wash the peeler, dishwasher safe
Made of stainless steel
we send it randomly

Package included:
1 x 3 in 1 apple peeler corer slicer
Order today for free shipping worldwide 🌎✈️
Ships From USA
Make food on the go fun again with the YumiBox!
Our modern design not only looks amazing, but offers tons of new storage possibilities. Easily portion meals for a healthier balanced diet. 

Meal at work? School lunch for the kids? Picnic at the park? Going camping? We got you covered!

Not sure which to choose? You can leave a compartment (or two) at home and make your YumiBox smaller for those not-so-hungry days.
Get That Fresh Taste With The Citrus Sprayer
 -Ships From USA
FRESH JUICE – Now you can enjoy the all-natural taste of citrus with all the vitamins and flavors with no added sugar, additives or preservatives. Get every last drop from your oranges, lemons and limes with no seeds, pulp or rind.

EASY TO USE – Soften the fruit by rolling on a flat surface while applying light pressure. Slice the end off the fruit and screw in like a corkscrew. Squeeze fruit and sip right out of the fruit or easily pour fresh juice into your bowl, glass or tea. To keep the juices flowing, press on the lower half of the fruit and turn the fruit as you squeeze.

NO MESS – No seeds, no pulp and no rind in your water, salad or food. Avoid messy slicing of fruit and half cut lemons hanging out on the counter. Simply keep the juicer in the fruit and store in the fridge in between uses, to keep the fruit fresh for longer.

MULTIPURPOSE – Not just for juicing fruit, use our spout as a citrus sipper and drink right out of the fruit like a straw. A fun way for kids to eat their fruit with minimal mess and all the vitamins! Our citrus juicer can also be used as a pepper corer for homemade jalapeño poppers.
Features:


Name:Lemon sprayer




Material:ABS,Silicone




Size:L:10*4.4cm S:8.5*4.4cm Tray diameter7.6cm




Color:AS the Picture Show




Quantity:1 set



Description:


1. High-quality materials, safe and odorless, can be recycled and not easily damaged.




2. With one touch, you can spray the fruit juice directly into the container or food.




3. Screw-in design, it is very easy to insert into the fruit, the nozzle draws the juice to the nozzle through pressure.




4. Silicone ring can avoid fruit juice splashing, and the tray can hold fruit.




5. Removable into three parts for easier cleaning.
Make quick and easy smoothies on the run
- Ships From USA
Imagine the freedom of being able to go anywhere and blend your favorite smoothies, shakes, margaritas, or baby food without the limitations of a regular blender.
Now, you'll experience the freshest, most amazing flavors, everywhere you go because you're living in the future with a BlendPod. After blending 8-12 beverages on a single charge, simply plug into any USB port or charger to recharge in no time.
BENEFITS:
Take It With You Wherever You Go
Cleans Itself
Easy To Charge
Free Worldwide Shipping
Full Refund Guarantee
.
The BlendPod is the world's most powerful portable blender. With BlendPod and it's six stainless steel blades, you're not sacrificing power for convenience! The BlendPod is so powerful it can blend everything you want. You will never need a kitchen or a power outlet again.
.
Additionally, your BlendPod will practically clean itself. Imagine never having to clean your blender again. Just add water and a drop of soap, and run. Tada! Your BlendPod is clean and ready for use again!
After asking our first customers of their product-experience we came up with the perfect size that meets the customer's expectations. Thanks to our carrying strap we added on, you can enjoy your BlendPod wherever you want and the compatible design allows you to put it into your car's cup holder, but it is large enough to make all of your favorites.
BLISS CLEANSING BRUSH
- Ships From USA 
Smooth skin is just so easy with the Bliss Cleansing Brush! For just two minutes a day your skin can feel smooth healthy and soft! I mean, who doesn't have two minutes!
Bliss Cleansing Brush features :
It helps to clear the pores allowing the skin to absorb nutrients and also helps slowing down the signs of ageing.
Relaxing vibrating massage instantly removes makeup and dirt within the pores of your skin leaving the appearance of younger and healthier looking skin.
Helps to deeply clean away impurities and oil, while keeping the skin refreshed.
Soften and improves skin elasticity.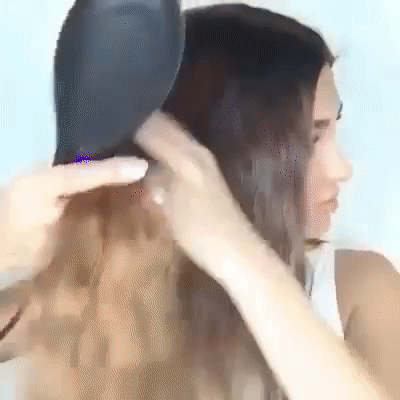 TIRED OF USING 
YOUR FLAT IRON?
---
- Ships From USA
Are you looking for a way to get your hair ready for the day without it taking so much time or having to use many devices to do it? 
If yes, then owning one of the best hair straightening brush is just what you are looking for.